Oil Storage Tank Fabrication
T BAILEY INC. is an industry-leading oil storage tank manufacturer with a proven track record of completing complex and ambitious projects on tight schedules and within tight job sites. From massive oil reservoirs to sprawling farms of tanks, we're capable of taking raw land and delivering turn-key oil tank facilities. 
Industries We Serve:
Read on to learn more about our oil storage solutions or contact T BAILEY, INC. to receive an estimate for your oil tank project.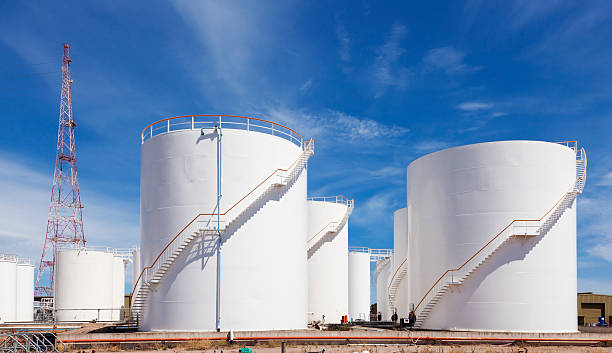 Steel Oil Storage Tank Capabilities
The fabrication experts here at T BAILEY INC. are proud to offer comprehensive oil tank services — as a general contractor, we're able to fulfill every step in the fabrication process, from initial design to delivery and installation of on-site utilities. 
Another thing that sets us apart from other oil storage tank manufacturers is that our metal fab shop is equipped with a massive industrial coating facility. This enables us to complete projects faster and helps us keep costs down for our customers. 
Our full list of capabilities includes:
Oil Storage Tank Codes & Standards
We manufacture crude oil storage tanks, waste oil storage tanks, and other kinds of petroleum product tanks. Codes and standards we're certified for include ASME Section VIII – Div 1, API 650, API 620, API 653, UL 142, UL 2085, STI F921, STI F941, and more.
Design & Engineering
While some customers come to us with their tanks already designed, we offer a complete design and engineering services for those who only know the needed storage capacity. Our trusted engineering partners will design your tank, run performance and strength calculations, and then hand it off to our fab shop for creation.
Fabrication & Construction
We manufacture both shop-built and field-erected oil tanks. Shop tanks are cut, assembled, coated, and shipped from our facility in Anacortes. On the other hand, field-constructed tanks are fabricated in parts, sent to the job site, and then assembled in the field by our expert welders and field crew.
Site Preparation
T BAILEY INC. doesn't just build tanks. We also provide tree clearing, site grading, foundation construction, and all the other necessary site work.
Industrial Coatings
Storage tank oil isn't corrosive, but water particles are frequently mixed in with the oil. Once poured into the tank, these water droplets separate, sinking to the bottom of the tank and causing corrosion. To mitigate the risk of a tank's bottom rusting out, many clients request a bottom lining.
Quality Control & Testing
All our oil tank fabrication projects are overseen by T BAILEY INC.'s dedicated Director of Quality Assurance (an AWS Certified Welding Inspector and CWB Certified Welding Supervisor). In addition to welding supervision, we also subject tanks to rigorous testing procedures to ensure our workmanship stands the test of time.
Types of Oil Storage Tanks We Manufacture
We fabricate a wide range of oil tanks. Shop-built tanks can be up to 25' in diameter and 20' tall, while your budget only limits field-erected tanks. We've built reservoirs over 250' in diameter and with heights ranging between 16' – 140'.
The most common kinds of oil storage tanks we fabricate include:
Oil Reservoir Tank
Our field-erected oil reservoirs can be equipped with fixed or floating roofs. A single bulk oil storage tank can range anywhere from tens of thousands to tens of millions of gallons in capacity.
Vertical Oil Storage Tank
We fabricate individual vertical tanks and complete tank farms (project costs can sometimes be reduced by building a tank farm instead of one giant reservoir). Shop-built tanks like these can be equipped with single and double walls.
Horizontal Oil Storage Tank
Our horizontal tanks are ideal for the storage of light and heavy petroleum products. We can also fabricate ASME pressure vessels.
Underground Oil Storage Tank
We manufacture horizontal shop-built tanks for underground oil storage. If your tank is destined for underground storage, we'll give it several coatings to help it resist corrosion.
Disaster-Proof Oil Storage Tank
Our robust Fireguard® tanks are impervious to most disasters, including collisions, gunshots, and earthquakes — making these tanks perfect for remote oil farms and military facilities. Visit our Fireguard® tank page to learn more about these specialized tanks.
A Track Record You Can Depend On
T BAILEY INC. has a long history of building robust oil tanks. During our tenure in the industry, we've constructed oil storage for:
Refineries
Transfer stations
Military bases
Oil tank farms
Ports of entry
Manufacturing facilities
Pipeline terminals
And many other industries and applications
We've built tanks in the heat of summer and the bitter cold of Alaskan winter, in remote forests and within tight urban job sites. No matter how ambitious your project or restrictive your job site, we have the experience and technical expertise necessary to get the job done right.
To review our track record for yourself, here are case studies from past oil tank projects:
Clear Air Force Base Project (STI Fireguard® tanks)
Shell Puget Sound Refinery Project (ASME degassing drums)
Westway Terminals Project (API 650 storage tanks 120' in diameter)
USACE Centralized Fueling Station Project (API 650 & UL 142 tanks)
Blair Lakes Fuel Complex Project (API 650 tanks)
And to get your oil tank manufacturing project started, contact our office today.
Our Customers
SCHLEG VALLEY
CONSTRUCTION
The map above depicts our March Point Road Steel Fabrication Shop in proximity to our Barge Load Out Facility.
"T BAILEY is the single-most professional group I have worked with in a subcontracted situation – ever. I was impressed by T BAILEY's ability to do exactly what was committed to be done...you've raised the bar."
Bodell Construction
What are you building?
We're designed to perform custom fabrication of heavy structural and plate products, and can directly ship oversized loads via barge, rail, or truck to your location.
Let's Discuss a Project